I'm All Shook Up aka Sonny
( Sale Price: 5000.00 )

City:

Rogersville

State:

Missouri

Zip Code:

65742

Sale Price:

5000.00

Gender:

Gelding

Color:

Sorrel

Height:

14.3

Weight:

900 lbs

Foal Date:




Breed:

Missouri Fox Trotting Horse

Attributes:

Disciplines:

Beginner/Family (Trained)
Cowboy Mounted Shooting (Trained)
Driving (Trained)

Seller Information
Name: Kay Bowden
Phone: 417-813-3197
Email: kay.bowden777@gmail.com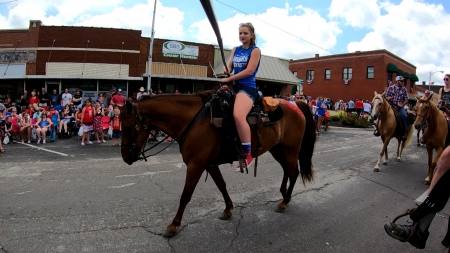 Pedigree
Southern Playboy
Southern Sunrise
Missouri Laurel
B.G.'S Miss Kate Ann
Cody's Puzzle
The Hustlers Miss B.G.
More about I'm All Shook Up aka Sonny
Price may change at anytime please contact me 417.839.5609 for information including coggins, papers, vet inspection, videos, and more...Description: Meet "I'm all shook up" aka "Sonny" he is a seven-year old registered Missouri Fox Trotter Gaited Trail Gelding, a been there done that kind of horse with a very smooth gait, quiet disposition, and he is enjoyable to ride. Sonny can be ridden with or without a bridle, saddle or bareback, he backs up with ease, lays down on command to mount and dismount, side passes up to any object, rides well in large and small groups, easy to catch, neck reins, and drives. Sonny has desensitized to cows, dogs, and other farm animals. He is also trained to canter,foxtrot and running walk. Sonny has also experienced many trails, crossed many creeks, logs, rivers, puddles and bridges, He has also been to parks and parades, has experienced loud sounds like guns, fireworks, heavy farm equipment, and loud traffic. Sonny has no issues with tarps, whips, steep inclines, wildlife on or off the trails. He is a horse that my whole family enjoys riding. Sonny has a great personality and would make someone a wonderful family trail horse. If you have any questions regarding Sonny or would like to come see him please contact me anytime to set up an appointment.